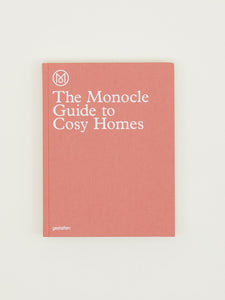 The Monocle Guide to Cosy Homes is a survey of everything you need to build the residence you want. From architects to furniture-makers, from design-store owners to gardeners, they will introduce you to interesting people with ideas that are built to last.
The book also has detailed guides to great places to build that home and a global photographic survey of the homes we like. As with all of Monocle's books, the guide is a perfect balance of the inspirational and practical. This is a book that should be used again and again; it's about quality of life, a pinch of 'hygge' and making homes where our lives can unfold.
The 400-page book is printed on a selection of great papers and a linen cover. Published by Gestalten.
Gestalten is a Berlin-based publisher and produces high-quality editions in an environmentally friendly and resource-efficient manner.
Details & care
Features: 400 pages, linen hard cover
Published by: Gestalten
Printed in: Germany
Dimensions: 20cm x 26.5cm x 3cm
(7.9in x 10.4in x 1.2in)