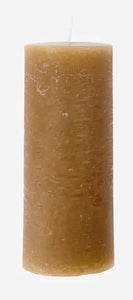 Use the Rustic Wax pillar candles to create an inviting atmosphere in your living room. This camel coloured pillar candle comes with some structure to the surface. Whether you place them on a decorative tray, in a lantern or use them with candle holders, the result is a sense of warmth and relaxation. Use pillar candles on the windowsill or mix with other heights and colours throughout your home.

Size: h: 15 cm, dia: 6.3 cm
Weight: 0.8 kg.
Material: Paraffin, Cotton
Burning time: 52 hours.