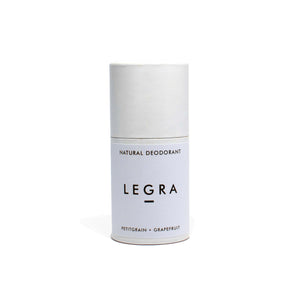 LEGRA natural deodorant with fresh citrusy fragrance created with a blend of Petitgrain, grapefruit and pine essential oils.
Natural deodorant, free of aluminium-based ingredients,  neutralises odour and keeps you fresh.
Non-greasy or sticky formula that glides on easily and is quickly absorbed. You only need a small amount to get great results.
Free of aluminium, propylene glycol, parabens & phthalates; alcohol, baking soda and synthetic fragrances.
---
Before first use - With lid in place, gently push up from bottom to expose deodorant.
Apply a few swipes to underarms ensuring full coverage and carefully replace lid after application.
With normal usage contents can last on average, 5 months.
Tip: As push up tube is not retractable, only push up again when required.
(Discontinue use if irritation occurs.)
Deodorant tube: Cardboard and paper push-up type with a natural greaseproof inner and push on lid.
Fully recyclable.
Organic Cocoa Butter
Organic Coconut Oil

Suitable for Vegans
Cruelty Free

Free from:
Aluminium
Alcohol
Parabens
Phthalates
Propylene Glycol
Petrochemicals
Synthetic Fragrance
Triclosan