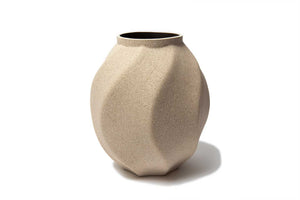 The new Vase 'Soft Wave' by Lindform has a lovely textured finish and a soft wave effect that is beautiful and calming.
Bring some Swedish design to your home with this range of stunning handmade ceramics by Lindform with a pleasing matt finish. The inspiration for Lindform comes from Nordic nature with its organic tones and simple shapes. Use the vase on its own or create a collection of delightful Lindform bud vases and taller vases in a display. 
Lindform is a Swedish family company that started in 2007. Since then it has grown into a brand that is synonymous with Scandinavian design and quality. In the collection there are influences from Japanese minimalism, a style that is in keeping with Nordic design. 
Material: Handmade ceramic vase, matt finish, glazed on the inside. Clay is a porous material so care must be taken on surfaces which are sensitive to moisture. 
Size: 21cm H
Care: Wipe with a soft cloth, also dishwasher safe